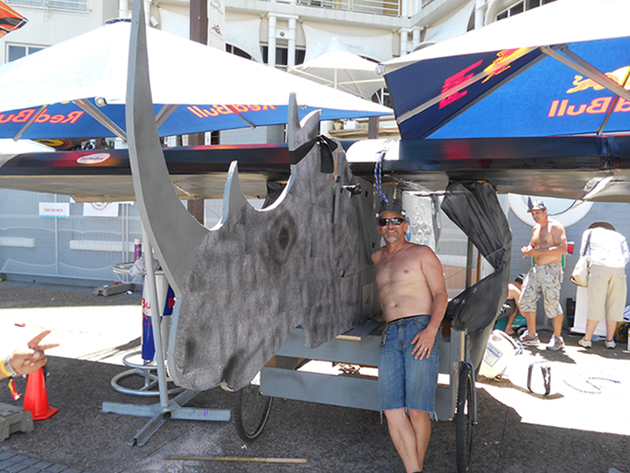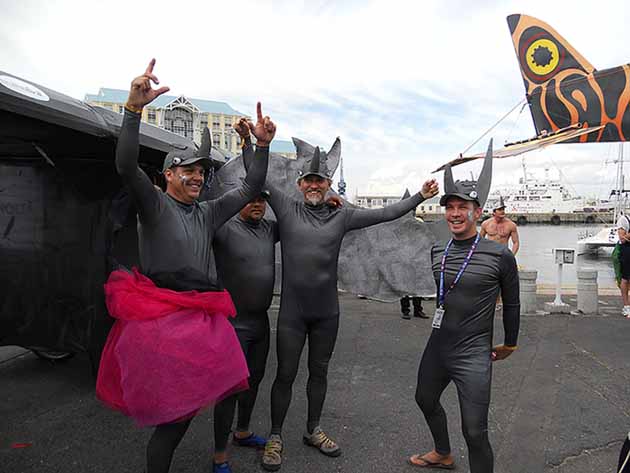 Earning themselves a degree in wackiness and courage, Konica Minolta South Africa employees: Richard Berg, Dane Becker, Andre Idas and Stephen Spies, took part in the Red Bull Flugtag, soaring (this term is used loosely) into the sky on a rhino.

The Red Bull Flugtag is an event organised by Red Bull in which competitors attempt to fly homemade, size and weight limited, human-powered flying machines.

These flying machines were launched off a six metre high ramp at Cape Town's V&A Waterfront. More than 220,000 spectators attended the December 2012 event.

Known as team bizhub Warriors, the four brave men were one of only 41 teams selected out of 200 entries to "change aviation as we know it" and "fly" from dry land into the icy harbour water.

Amidst the thrills and comedy, team bizhub Warriors' main goal was to raise awareness of the brutal killing of 668 rhino in 2012. The company has placed a strong emphasis on the plight of the rhino since 2011 through both stakeholder communication and contributing to WWF's African Rhino Programme, which supports RhODIS.

ABOUT KONICA MINOLTA SOUTH AFRICA:
Konica Minolta South Africa, wholly owned by the Bidvest Group, stands at the forefront of business solution providers as the principal importer and distributor of the innovative and award winning Konica Minolta range of bizhub digital multi-functional colour and black & white devices, laser printers, fax machines and business solutions, into South Africa as well as Namibia, Malawi, Botswana and Swaziland. Konica Minolta South Africa's head office is based in Johannesburg and 17 branches and 48 dealerships support its distribution network. With an operational stance of consultative business partnering, the group provides clients with holistic document management solutions: through pre-sales analysis, audits to sales, installation, ongoing onsite technical and software management as well as the supply of spare parts and consumables.

CONTACTS:
Konica Minolta SA: Ritchi Smith, 0800 bizhub, ritchis@kmsa.com
icomm: Debbie Sielemann, +27 (0) 82 414 4633, debbie@pr.co.za, www.icomm-pr.co.za