Since Fern's arrival on the 23rd of June 2018, it's been nothing but positivity after the traumatic ordeal of losing her mom and being attacked by lions and hyenas. After the first week of her settling in by herself Dr Albertus Coetzee came out on the 6th July to dart her so we could thoroughly check and clean the wounds on her legs and tail. Out of the 5 wounds, 4 were in good condition but the largest wound on her back-right leg from hyenas required more attention. During the procedure we had to wake her up as she didn't react to the drugs as well as we hoped, this was due to Fern still recovering from her 6 weeks by herself. This quick procedure only lasted 12 minutes from being darted to being woken up. 2 minutes after being woken up she was put back with her friends Khanya, Rose Petal and Rubybelle to reduce her stress. 3 weeks later her wounds are healing excellently with the wound that required the extra treatment nearly healed and she allows her caregiver to treat the wounds in return for a simple leg scratch.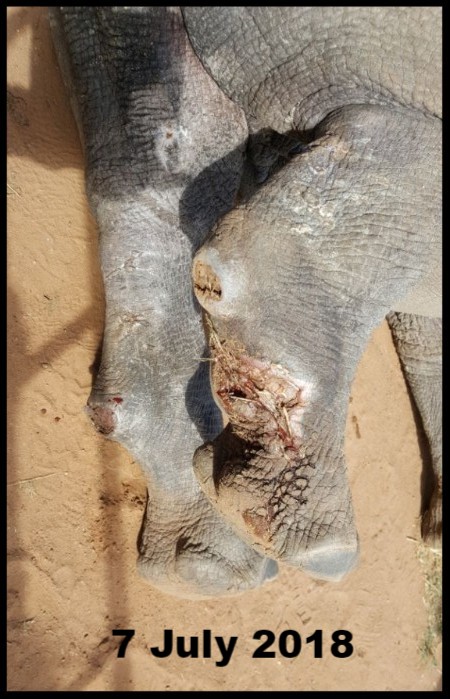 Fern is now truly apart of the baby crash in quarantine with Khanya, Rose Petal, Rubybelle and Summer. She spends her time in the day grazing whilst following the other 4 orphans around as they show Fern the daily routine as well as all the crazy antics they can get up to! Khanya, being the oldest and wisest of the baby group, enjoys passing down her vast knowledge of mischief-making.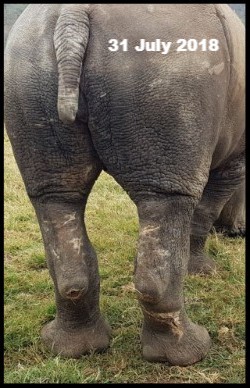 Fern has taken very well to sharing the rhino apartment with the other babies. Sharing a rhino apartment with other orphans not only ensures that she remains warm and cosy through the cold winters nights, but also gives her the warm comfort of love and friends.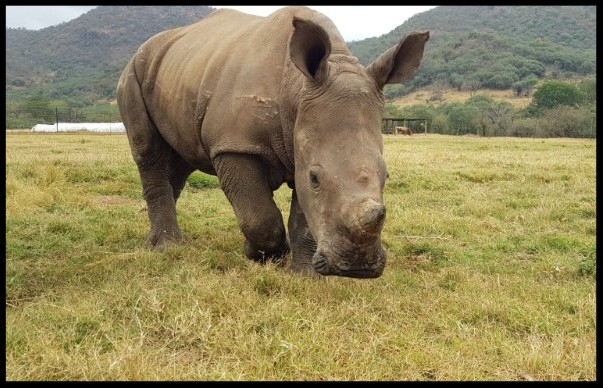 As time is passing by, we are learning more and more about her spunky personality. Fern is a confident little madam. She knows what she wants and if she doesn't get it, she isn't afraid to let her caregivers run! We are looking forward to seeing this little rhino grow from day to day and watch her already big personality get even bigger.