In August 2014, Cape Town-based and Konica Minolta South Africa dealer, CBA Group, presented Uitsig Primary in Ravensmead with a donation of R25,000 towards the advancement of their school. CBA's key account manager on the Uitsig Primary account, Jacques Le Roux was delighted to hand over the cheque to the principal, Hermanus Mouwers, and deputy principal, Theresa Holland. The school was extremely grateful for the donation and looks forward to the continued partnership with CBA.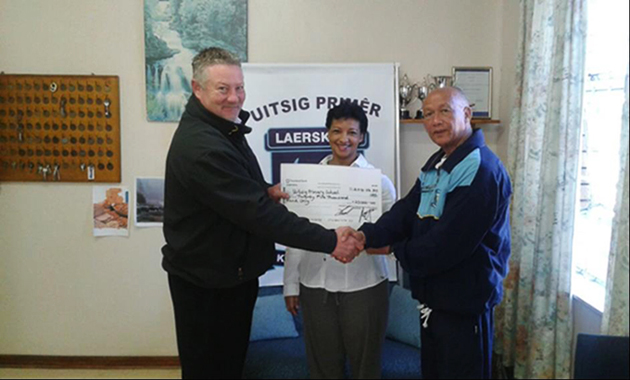 L-R: Jacques Le Roux (CBA), Theresa Holland (Uitsig Primary School, secretary) & Hermanus Mouwers (Uitsig Primary School, deputy principal)
CBA Group collects donations for Heaven's Nest in Ottery
Nappies, baby clothes and blankets were just some of the items donated to Heaven's Nest by the generous CBA Group staff in September 2014. The organisation, which relies solely on donations, provides emergency care for children in Cape Town who have been neglected, abused or abandoned, including those who are HIV positive. Julian Barnes from CBA Group, delivered the collected items to Heaven's Nest, which were gratefully received by the staff and children.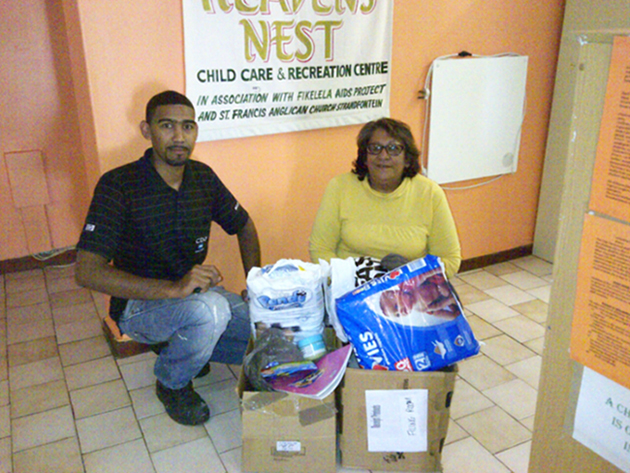 Julian Barnes (CBA) and Eleanor Bester (Heaven's Nest)
CBA making a difference with Sleeping Bag ProjectIn July, 2014, Konica Minolta South Africa partner, CBA Group, teamed up with HGG's NPO Sustainability Solutions division and Media24 for a sleeping bag drive, where participants were taught how to make sleeping bags from old newspapers, plastic sheets and tape. The completed sleeping bags were then distributed to the needy on Cape Town's streets by HGG.

"What an incredible experience for all at CBA. This initiative opened up the CBA staff's hearts and eyes to the reality for those that live on the streets of Cape Town. We hope that with the foundations laid that our staff will take these skills learnt and upskill their individual communities in making a difference," said Reneé Cole financial manager at CBA Group.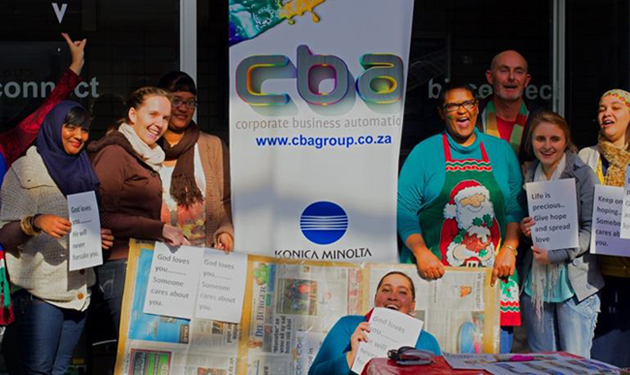 L-R: From CBA Group, Ibtisaam Pillay, Charleen Fouche, Noleen Williams, Michelle Webber, Andreas Visagie, Michelle Bowerman, Lamisah Taliep, Veronique Samuels (front centre)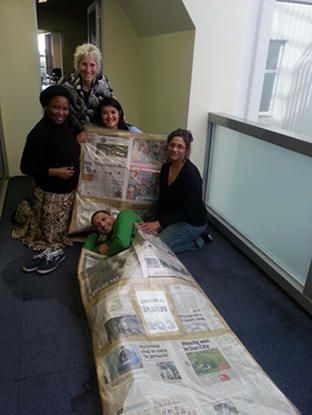 L – R: From CBA Group, Esma Mboneli, Reneé Cole, Antoinette Pieters, Theresa Neethling, Kyle Raman