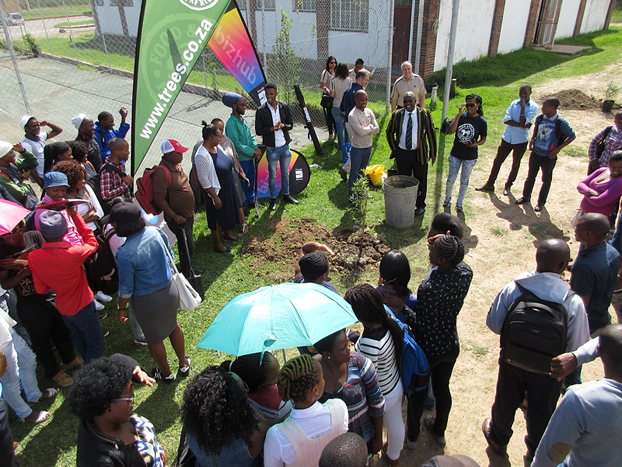 Day One:

Last week, Konica Minolta South Africa embarked on a momentous journey in the Eastern Cape, retracing the footsteps of a man that all South Africans hold in the greatest esteem, the late Nelson Mandela.

Day one saw Gary Eves, our Eastern Cape branch manager, lead the team from Konica Minolta South Africa and Food & Trees for Africa, in a round trip of over 170 kilometres from East London to Alice and Fort Beaufort and back.

We were welcomed with open arms – as well as the exuberant tones of its resident student marimba band made up of six dedicated BA Music students – at Fort Hare University's Alice campus, attended by Madiba in the 1940s.

The university's deputy dean for the science and agriculture faculty, Professor Monde addressed the students, faculty members and guests in attendance, explaining that Nelson Mandela always placed a high value on quality of life, from health and socio-economic status to equality and unity, and that trees are the ideal representation of his feelings on this subject as they signify life and growth.

Despite the extreme heat of the day, students and staff from the science and agriculture faculty crowded the sport field, where our 19 indigenous trees were planted, allowing us not only to honour the great man, but also the centenary year of the facility.

The dedication of the agriculture students in particular was remarkable, with many learners – like Mercy Nqandeka and Lungile Gidi in particular – hoping to achieve PHDs and planning to put their academic knowledge and experiences to use by helping smaller farmers and smallholding owners in the community.

Our next stop was Madiba's secondary school half an hour away in Fort Beaufort. Off the beaten track, the Healdtown Secondary School is set amongst undulating hills and colourful homesteads, evoking feelings of a wonderful peacefulness. Accompanied by the school's principal, Mr. Mzingisi Douw and a grade 12 student with Computer Science aspirations, Mzakhe Macembe, another 19 trees were planted in the school's front garden to provide learners with shade and add to the school's tranquillity.

We were truly blessed to have Mr. Douw share some of the school's memorabilia with us, including a framed group shot of students that included President Mandela as a teenager, who matriculated from Healdtown in 1939.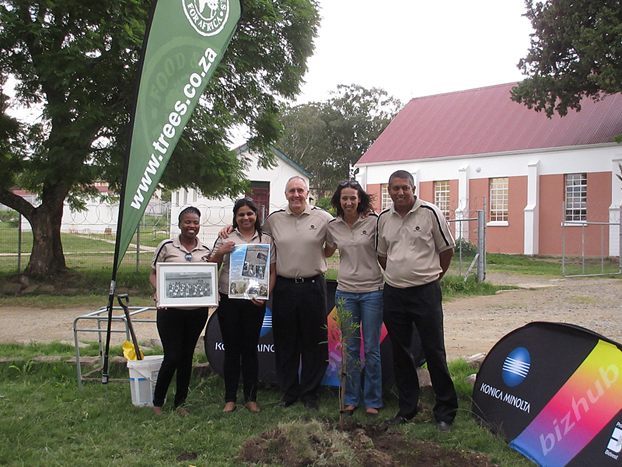 Day Two:

Day two of our Eastern Cape tour saw the Konica Minolta South Africa/ Food & Trees for Africa (FTFA) team head up the coast to Mthatha, with this leg of our trip clocking up more then 300 kilometres. Our destination for this day was Qunu, Madiba's final resting place.

Our planting site was the Nelson Mandela Youth & Heritage Centre, which was established, according to Mr. David Mqamelo, human capital manager of the centre and pastor of the nearby Good News Community Church, to develop young leaders based on Madiba's strong values.

Most of us in attendance shed a tear or two during an emotionally charged event at the centre, underlined by songs from the African Native Mission Church and an expressive speech of thanks by Ms. Mandisa Bida, organising secretary of the church.

The words by Chris Wild, FTFA's executive director, when he said: "Nelson Mandela stood like the strongest tree in the wind and protected all of us" could not have been more apt.

With thanks given both to God and for the donation of the 38 trees, Qunu's chief, Nokwanele Dalizulu, the church congregation (which included many elderly churchgoers) and a contingent of school children braved the pouring rain, watching to see how each tree needed to be planted and cared for with rapt attention.

The team was fortunate enough to then spend some time soaking in the striking photographs, mosaics and other tributes to Madiba, housed in the centre's museum, as well as the picturesque surrounds.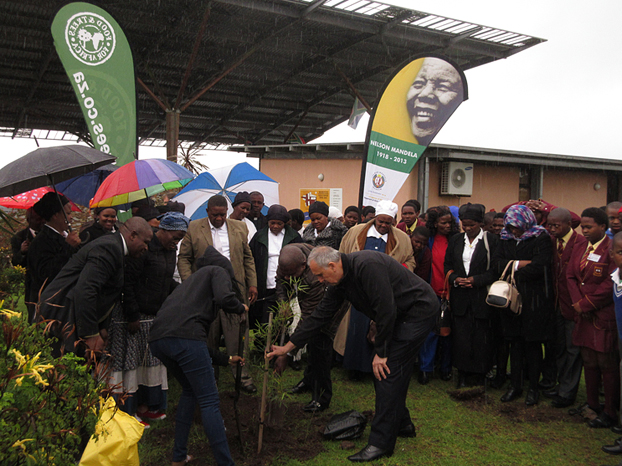 Day Three:

On the final day of our amazing "Madiba's footprints" tour of the Eastern Cape, the tree planting team headed to Nelson Mandela's birthplace, Mvezo, en route to East London.

Following a lengthy brick road winding through the majestic hills and valleys of Mvezo, today's planting took place at the impressive Nelson Mandela Open Air Museum. The site includes beautifully turned out conference rooms and offices, and, to our surprise, a formal "parliament" room, where representatives from surrounding regions meet on a monthly basis to discuss all area-related civil matters.

This event had a slightly more formal tone than previously, with thanks given by Mvezo's acting chief, Nolusapho Mandela (the mother of Madiba's grandson Mandla Mandela) and a greeting and introduction from each of the attending council members, which included two of Nelson Mandela's nephews.

Our first tree was planted no more than 20 metres from Madiba's birthplace (also known as "The Great Place") and once again, we were taken aback by the involvement and appreciation of all of those in attendance.

After paying our final respects, it was time to make our way back to East London, bringing to a close a fantastic initiative that saw us travel close to 900 kilometres in total, meet wonderful new people, see places we never had before, and most importantly pay tribute to Tata Mandela, the province's most beloved son.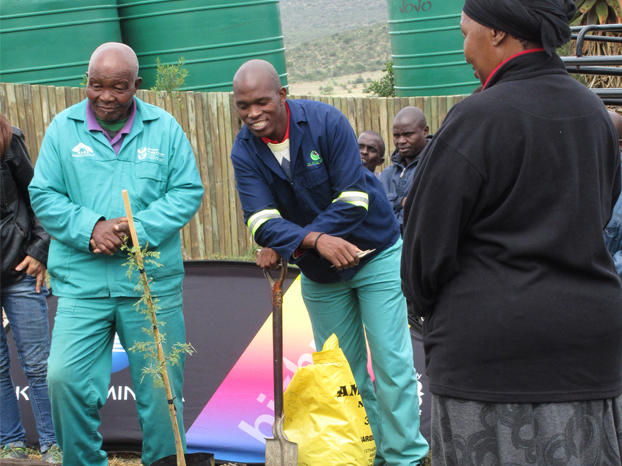 For more pictures from this trip, follow this link:
Eastern Cape Visit Gallery