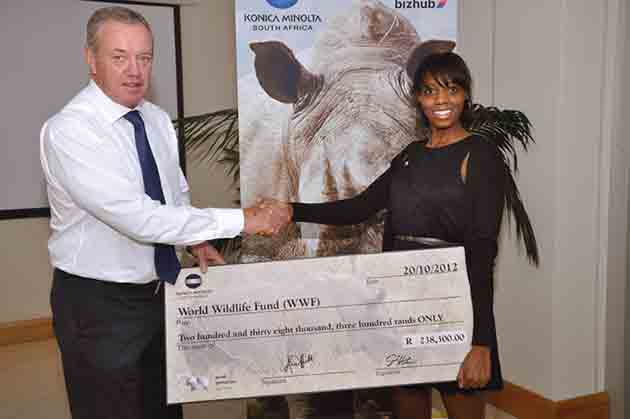 Alan Griffith, MD of Bidvest company, Konica Minolta South Africa, hands over the company's Q1 2012/ 2013 contribution to the World Wide Fund for Nature's (WWF) African Rhino Programme. The funds donated go directly to the University of Pretoria's Veterinary Genetics Laboratory, to assist in the running and further development of RhODIS, a rhino DNA index system. Griffith is pictured here with Puleng Mosholi, corporate relations officer: business development at WWF-SA.
ABOUT KONICA MINOLTA SOUTH AFRICA:
Konica Minolta South Africa, wholly owned by the Bidvest Group, stands at the forefront of business solution providers as the principal importer and distributor of the innovative and award winning Konica Minolta range of bizhub digital multi-functional colour and black & white devices, laser printers, fax machines and business solutions, into South Africa as well as Namibia, Malawi, Botswana and Swaziland. Konica Minolta South Africa's head office is based in Johannesburg and 14 branches and 43 dealerships support its distribution network. With an operational stance of consultative business partnering, the group provides clients with holistic document management solutions: through pre-sales analysis, audits to sales, installation, ongoing onsite technical and software management as well as the supply of spare parts and consumables.

CONTACTS:
Konica Minolta SA: Ritchi Smith, 0800 bizhub, ritchis@kmsa.com
icomm: Debbie Sielemann, +27 (0) 82 414 4633, debbie@pr.co.za, www.icomm-pr.co.za