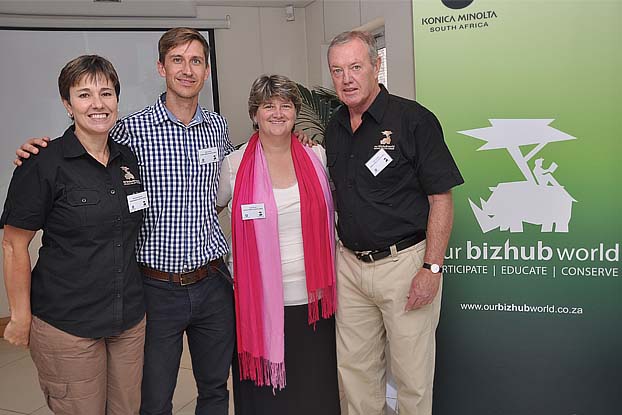 Left to right: Marianna – Business Unit Manager at Konica Minolta South Africa, Ryan James – Account Manager at Good Work Foundation, Kate Groch – CEO and Founder of Good Work Foundation, Alan Griffith – MD at Konica Minolta South Africa
It has become universally accepted that the fate of wildlife in Africa is dependent on the commitment and support of communities living adjacent to conservation reserves. The rise in organised crime in sub-Saharan Africa is directly linked to the rise in rhino and elephant poaching in the region. This scourge can only be combatted with the establishment of structures that align the economic interests of the local community with the welfare of the wildlife, thus making each one dependent on the other for their continued economic wellbeing and existence. This accepted approach has been embraced by Bidvest company, Konica Minolta South Africa, an organisation that recognises that a New Equation in Conservation is needed. To this end, Konica Minolta South Africa has committed to the establishment and funding of a sanctuary for orphaned rhinos, which will be owned and managed by the local community, through the sale of Konica Minolta's bizhub document management devices.

Through its association with the Nhlangwini Trust, the owners of strategic land adjacent to the Kruger Park, Konica Minolta South Africa has recently entered into discussions with SANParks Kruger Park management to establish a three way alliance between the private sector (bizhub from Konica Minolta South Africa), the public sector (SANParks) and the local community (Nhlangwini Trust), to establish a stronghold sanctuary for the protection of orphaned rhino on the land which is owned by the Nhlangwini community. This partnership will demonstrate the unique benefits that can be achieved from an integrated conservation development model, which supports community-centred conservation whilst protecting orphaned rhino.

The sanctuary will also be used as a field classroom for students attending the bizhub Conservation Academy, which has been established by the Good Work Foundation at the Digital Learning Centre in Hazyview. The sanctuary will act as a training ground for young learners, where they will receive practical instruction in a variety of conservation related disciplines, including practical 'real time' instruction to the learners during the capture, care and relocation of orphaned rhino.

Security fencing for the stronghold sanctuary has already been erected by the community, funded by Konica Minolta South Africa, with discussions between stakeholders currently underway. The intention is to complete the establishment of the facility by no later than June 2015.

For regular updates on the sanctuary and other corporate social investment (CSI) projects undertaken by Konica Minolta South Africa, please visit www.ourbizhubworld.co.za.