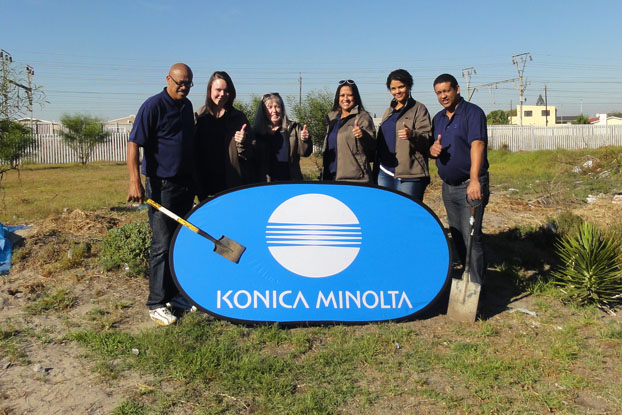 These were the words of Konica Minolta South Africa's Cape Town branch manager, Alten Hulme, when describing his recent experience of planting trees at the Green Grow Project in Elsies River.

The Cape Town branch donated 400 trees to a number of beneficiaries, also including Sanparks Table Mountain, Gugulethu Environmental Learning Centre, Dr Van Der Ross Primary School, Home from Home, Intshayelelo Primary School, Joe Slovo Engineering High School, Ntwasahlobo Primary School and Masiphumelele Primary School.

Fifty of these trees were planted at the Green Grow Project, a massive plantation in the heart of a gang-ravaged area, which aims to supply food to the impoverished community while wiping out crime in the area. Alten and his branch assisted with the planting of these trees.

'I'm grateful to have played a part, as tiny as it was, in a great initiative that makes a huge difference in a community where it is sorely needed. The tree planting has given them hope and renewed mine, while also spreading awareness about climate change and environmental issues. It was a very exciting and overwhelming experience for me to understand how important the planting of a tree is, especially as our company is contributing to improved properties for the communities,' he said.

This initiative was done in conjunction with corporate social investment (CSI) partner, Food & Trees for Africa (FTFA).