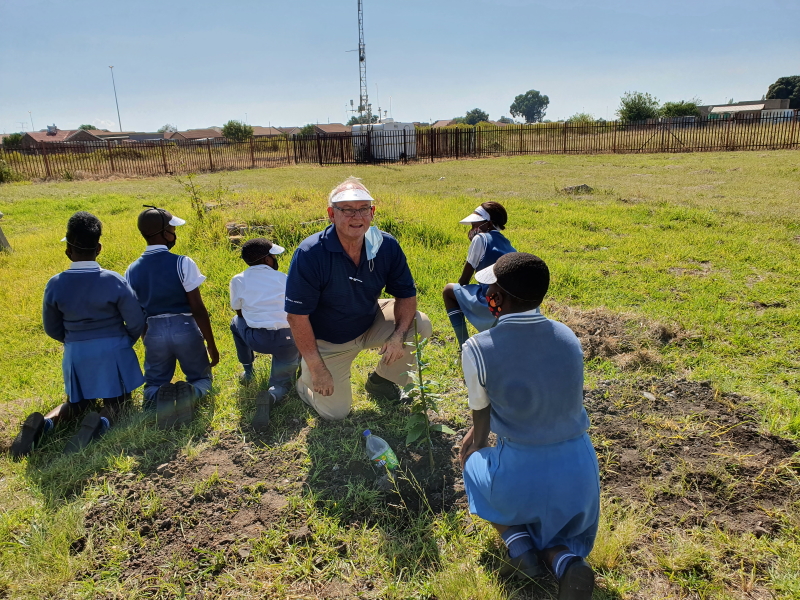 Planting 20 indigenous shade trees at Theha Setjhaba Primary
On Friday, March 19, 2021, Konica Minolta Vaal, an authorised dealer of Konica Minolta South Africa, continued the significant work of the corporate by planting 20 indigenous shade trees at Theha Setjhaba Primary, in association with highly regarded NPO Food & Trees for Africa.
 
As part of the ongoing work in retaining Konica Minolta SA's carbon neutral status, and bringing much needed greenery to the community, a further 890 fruit and indigenous shade trees will be planted within the Vanderbijlpark area, bringing the total tree donation tally for this area to a whopping 920 trees. Beyond the shade and fruit that these trees will provide, they will help offset an incredible 339.48 tCO2e (tonnes of carbon dioxide equivalent) during their lifetime.
 
The learners of Theha Setjhaba Primary not only assisted with the planting of the trees, but will also be looking after their growth and development, following the lessons they have received around environmental awareness, tending to trees and the role trees play in a thriving ecosystem.
 
"We loved every minute we were able to spend at Theha Setjhaba Primary with the learners as we planted the trees with them today. We are passionate about our environment and are honoured to be able to donate trees to schools in our area," said Dave Cochran, dealer principal of Konica Minolta Vaal.
 
Part of this donation will also see 50 indigenous shade trees being planted at the Sasolburg Horse Riding School. This school is home to 50 beautiful horses and is attended by 45 learners from local schools in the nearby Vanderbijlpark, Sasolburg and Vaalpark communities. The majority of the learners who attend the riding school are primary school learners and several of the learners receive therapeutic riding lessons to address challenges such as anxiety. Given that school sport is an important part of a child's development, in terms of social skills, and health benefits, the resources offered by the riding school to the keen young riders from the various local primary schools are invaluable. The donation of trees by Konica Minolta Vaal is an acknowledgement of this unique offering to the community and they will assist with providing shade, a cooler microclimate and increased air quality in the long-term for riders, stable-hands and the horses themselves.
 
Konica Minolta South Africa has been planting trees in partnership with Food & Trees for Africa for more than a decade and has been carbon neutral since 2013. In total 54,158 trees, including spekboom and bamboo, have been planted since the inception of this initiative and which have offset around 19 984.50 tCO2e. These trees have been planted across South Africa at 1,095 schools, 55 community centres and alongside 12,039 homes. More than 120 community educators have also been trained to educate the learners and community members around topics such as tree health and the benefits of trees for the environment, ecosystem and people.
 
"We are so grateful to Konica Minolta Vaal and Food & Trees for Africa for the donation of these beautiful trees to our school. I also really appreciate our staff who support our efforts around dedicated technology and maths, as they go beyond their classroom walls to educate learners on the importance of nature conservation and sustainability. Our learners are very excited to care for these trees and to continue learning about the benefits of planting trees and taking care of our environment," explains Mrs Agnes Tlou, Principal at Theha Setjhaba Primary.