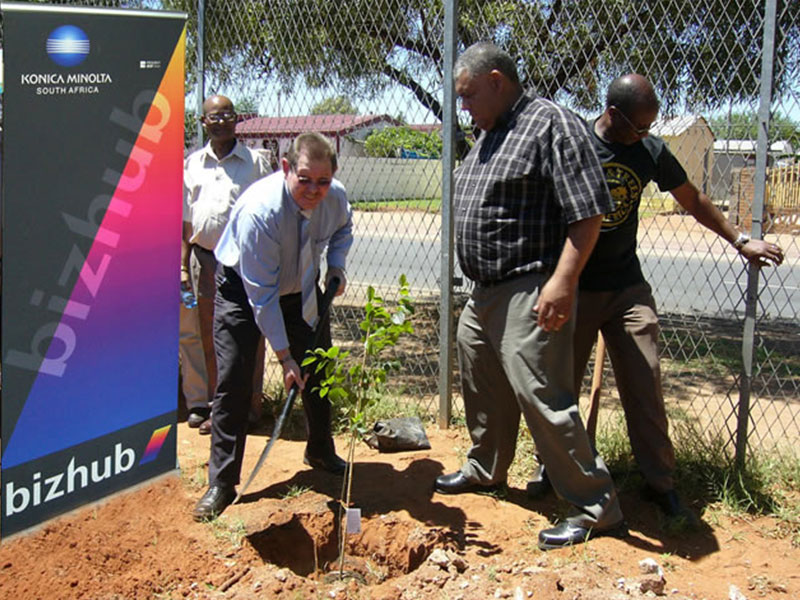 Planting the first tree at Boitumelo Special School are, left to right, Gerhard Kruger, Konica Minolta South Africa, Kimberley branch manager; Shahied Aysen, Konica Minolta South Africa, Kimberley branch service manager; and Sopho Mathe from Food & Trees for Africa (FTFA).
In addition to its environmentally conscious polymerised toner, Bidvest company, Konica Minolta South Africa, is taking proactive steps against global warming by contributing trees to disadvantaged residents in Kimberley.
The document management solutions provider, in partnership with South Africa's national greening and food gardening social enterprise, Food & Trees for Africa (FTFA), planted 900 trees at Boitumelo Special School, Phutang Section, Galeshewe, Kimberley during November 2010.
"Through the distribution of these trees we are contributing to improved properties for the residents in dusty settlements and are also spreading awareness about climate change and environmental issues" says Konica Minolta South Africa's Kimberley branch manager, Gerhard Kruger.
He adds: "As part of our corporate social investment initiative, we have committed to the FTFA Carbon Offset programme in an effort to further offset our carbon emissions and one of the best ways to do this is by planting trees. In addition to absorbing carbon dioxide, one of the most important green house gases, these trees will provide many other environmental and social benefits such as preventing water runoff and erosion, settling the dust, providing shade and shelter, lessening noise and beautifying neighbourhoods."
ABOUT KONICA MINOLTA SOUTH AFRICA:
Konica Minolta South Africa, wholly owned by the Bidvest Group, stands at the forefront of business solution providers as the principal importer and distributor of the innovative and award winning Konica Minolta range of bizhub digital multi-functional colour and black & white devices, laser printers, fax machines and business solutions, into South Africa as well as Namibia, Malawi, Botswana and Swaziland. Konica Minolta South Africa's head office is based in Johannesburg and its distribution network is supported by 14 branches and 43 dealerships. With an operational stance of consultative business partnering, the group provides clients with holistic document management solutions: through pre-sales analysis, audits to sales, installation, ongoing onsite technical and software management as well as the supply of spare parts and consumables.
ABOUT FOOD & TREES FOR AFRICA (FTFA):
FTFA is South Africa's national social enterprise that started in 1990 to address sustainable development through greening, climate change action, sustainable natural resource management and food security programmes. FTFA has distributed almost four million trees, facilitated over 2,500 organic food gardens for the poorest in South Africa and launched the first carbon calculator and the Carbon Standard (now the Carbon Protocol) in this country.
FTFA's objectives are:
to contribute to greening, climate change action, sustainable natural resource management and food security;
to create awareness of the benefits of environmental improvement activities amongst all communities of southern Africa;
to contribute to poverty alleviation, sustainable development, enhanced environments, capacity building and skills development
Working in partnership, and with the support, endorsement and cooperation of government, the private and public sectors and civil society to achieve these aims, FTFA implements five programmes, namely: Trees for Homes, Trees for All and Bamboo for Africa (that are registered under the Carbon Protocol), Food Gardens for Africa, and EduPlant, each with various projects. This proposal focuses on the tree programmes.
Many companies, government departments, aid agencies, organisations, media and individuals now contribute to FTFA, supporting programmes or projects that are leading to healthier lives of impoverished communities, more sustainable green environments and increased awareness of our impact on the planet and the need to address this. For a complete list of FTFA's development partners, board members, patrons, employees and projects, as well as financial statements, please refer to www.trees.co.za.
CONTACTS:
Konica Minolta SA: Ritchi Smith, 0800 bizhub, ritchis@kmsa.co
Trees for Homes: Joanne Lee Rolt, 011 656 9802/3, joanne@trees.org.za.
icomm: Debbie Sielemann, +27 (0) 82 414 4633, debbie@pr.co.za