Helping Our Customers Avoid Waste and Save Resources – Easily and Without Effort!
Konica Minolta South Africa's Toner recycling project:
Is your company focused on environmental responsibility, waste/plastic reduction, or does it have an environmental management system (e.g. ISO 14001 or EMAS)?
Konica Minolta South Africa's recycling project helps to save resources and reduce waste through the reliable and environmentally sound disposal of consumables.
Konica Minolta South Africa's recycling project offers a simple and convenient procedure for consumables recycling at zero cost to your company.
Thought-Provoking Questions
Do you know what happens with your discarded toners and other consumables?
Are you aware that a fair portion of Konica Minolta consumables are classified as electronic products, which
may not be disposed of as residual waste?
Do you know that most recyclers burn the used toner bottles and cartridges because these are difficult to
recycle?
Would you like to make an effective contribution to protecting natural resources and reducing waste?
Would your business benefit from using the aspect of saving resources for positive communication and
marketing?
Background Information
Consumables Scope:
Service available for all
Konica Minolta consumables
(toners, drums, imaging units, waste toner boxes, fusing units, developers).
Many Konica Minolta consumables
are marked as electronic products (crossed out wheelie bin symbol).
These must be disposed of as
electronic waste.
Compliance:
Konica Minolta South Africa's
recycling project ensures the
compliance in the disposal
process.
If a client does not wish to use Konica Minolta South Africa's recycling project, consumables containing electronic components, it is the customer's own responsibility to ensure their
compliant disposal.
Costs:
Konica Minolta is responsible and that takes
ownership of recycling of used toner
cartridges, imaging units, toner bottles,
toner powder as well as competitor units,
and make use of a supplier development
beneficiary at no cost to the customer.
OUR CUSTOMERS PRINT – AND KONICA MINOLTA TAKES CARE OF THE RECYCLING OF THEIR TONER CARTRIDGES, TONER BOTTLES, PHOTOCONDUCTOR DRUMS, AND OTHER CONSUMABLES.
Did you know that an empty printer cartridge will take 1,000 years to decompose? And that globally at least 80% (+- 13 million) of used toner and ink cartridges end up in landfills? These are frightening facts!
As we may not reuse or refill toner bottles or cartridges for Konica Minolta devices, and as a local socially and ecologically aware organisation , Konica Minolta South Africa takes its responsibility to the environment around us seriously and seeks out opportunities to make the way we do business more sustainable. To this end we are proud to provide a service to the local Konica Minolta South Africa market with an environmentally friendly recycling programme. But before we get to that, let's look as what recycling actually means.
Recycling is the processing of used materials (waste) into new products. It allows us to reduce the need for "conventional" waste disposal and lower greenhouse gas emissions as compared to virgin production. This is done by preventing the waste of potentially useful materials, reducing the consumption of raw materials, decreasing energy usage and cutting air pollution from incineration, as well as water pollution from landfill. Recycling is a key component of modern waste reduction and is the third component of the "reduce, reuse, recycle" waste hierarchy.
Through our Supplier Development beneficiary, New Circle Green Solutions, used toner bottles, -cartridges and/or imaging units are collected from participating customers to be recycled. Various materials are recycled:
PAPER/CARDBOARD
Separated and supplied to paper recyclers
PLASTIC
LD-PE; HD-PE; LLD-PE; PP; ABS; PET; HI-PS is recycled in-house through our Supplier Development initiative and either pelletised or granulated and used to manufacture everyday products or supplied to manufacturers of packaging or thermoset plastic products.
METAL
Steel and aluminium form the bulk of the recovered metals which are sorted and sold as scrap or repurposed into consumer products.
TONER
Though South African legislation classifies printer cartridge waste as hazardous, Konica Minolta South Africa manufactures polymerised toner which is plant-based biomass, i.e. using renewable bioorganic resources other than fossil-derived resources, and therefore not toxic to the environment.
Toner and waste toner are incorporated as pigment to colour a variety of plastics and colour toners are used as a paint pigment for vibrant colours, which prevent toner from going to landfill.
After months of research and development, the Konica Minolta Toner Recycling Project kicked off late 2014, and to date in excess of 90 tons of used toner bottles, -cartridges and imaging units have been recycled.
During the research and development phase with the assistance of a third party, coasters were produced from the recycled materials.
We acknowledge our participation recycling customers by presenting them with a certificate every financial year-end.
Flower and vegetable pots have also been produced and our newest innovation from these recycled materials has been the production of outdoor furniture i.e. umbrella stands and picnic benches.
Join us in our effort to stop any of our products ending up in a landfill.
Together we can make a difference!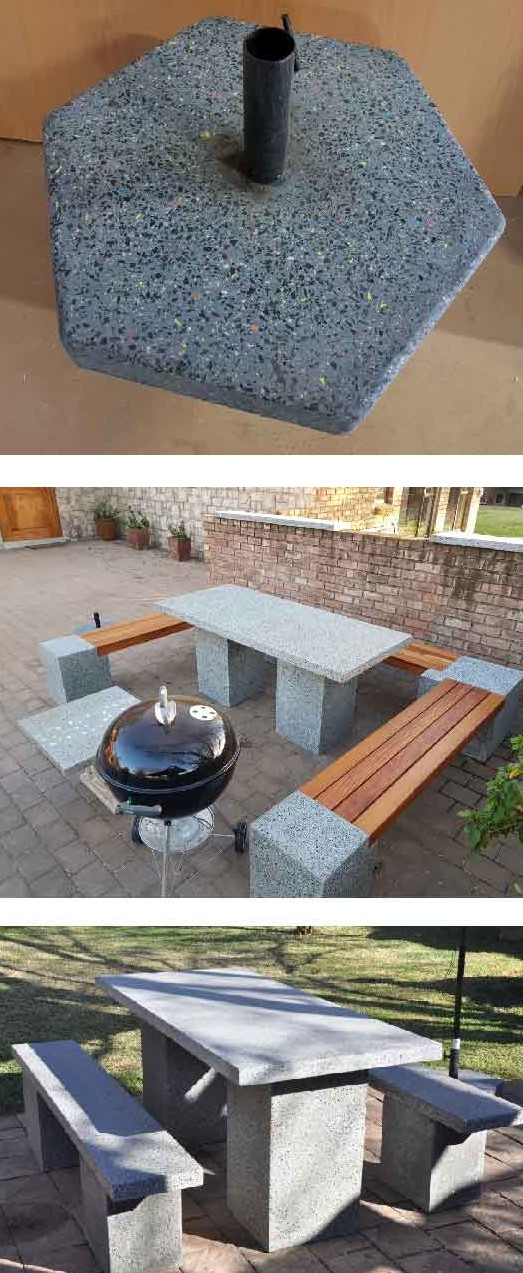 CUSTOMER BENEFITS
Valuable contribution to environmental protection and the UN Sustainable Development Goals
Reduction of waste and protection of natural resources
Very simple and convenient – the least possible effort for the customer
The individualised participation certificate for your customer confirms their engagement within Konica Minolta South Africa's recycling project.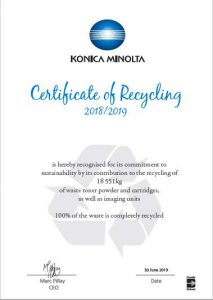 Customers can demonstrate to their employees, customers and business partners the commitment to environmental
protection beyond fulfilling legal regulations.